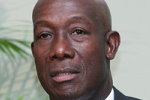 Prime Minister Dr Keith Rowley[/caption]
Fellow citizens, as we settle into our various routines, wherever and whatever that might be, I trust that we all had a joyous Christmas Season, shared with family, friends and community spirit.
As we reflect on the arrival of 2018 and all that it holds for us, let us spare a thought or a prayer for those individuals and families who have been victims of violent crime from one direction or another. Their pain is our pain and even as the New Year has opened with reports of the continued murderous scourge on our land I want to appeal to all citizens to keep hope alive in this war against the heartless family members and career violent criminals.

We must continue to support the Police in the national effort which last year saw 1064 firearms of all description and 18,000 rounds of ammunition confiscated, record numbers for the Caribbean, yet we face almost record killings.
Additionally, over 12,000 persons were arrested last year. We must, and we will, win this war on crime.
New approaches are at work in the SSA and a new energy is beginning to infect the ranks of the Police Service and already we are seeing improvements in response and…